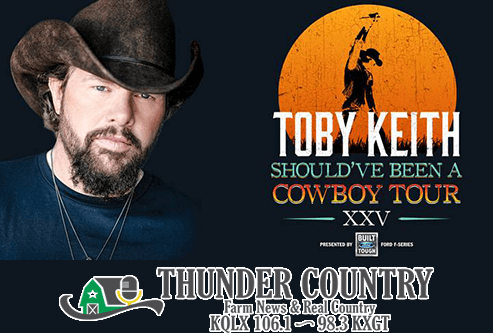 Thunder 106.1 & 98.3 Welcome
Toby Keith – "Should've Been A Cowboy Tour XXV"
Friday, September 7 – Scheels Arena
With special guest Ned LeDoux
LISTEN TO WIN TICKETS!
Toby Keith's 'Should've Been A Cowboy Tour XXV' presented by Ford F-Series is making a stop at Scheels Arena on Friday, September 7th, 2018.
The familiar maxim of the triple threat – singer, songwriter, musician – doesn't begin to cover it for Toby Keith, one of the modern era's most complete self-directed hit makers. And Keith's most recent months are a remarkably accurate representation of his entire career. In September 2017 he released The Bus Songs which went on to set a Billboard Comedy Albums chart record for a country artist by holding the No. 1 spot for 11 consecutive weeks. The collection of humorous, just-for-fun compositions includes two new songs "Shitty Golfer" and "Wacky Tobaccy," whose accompanying music video features Willie Nelson and quickly became a surprise runaway viral hit. This past year also saw the continuation of the Toby Keith Interstates & Tailgates Tour presented by Ford F-Series with sold out shows coast to coast, and filled venues nationwide throughout its two year run.
From the moment Toby's debut single "Should've Been A Cowboy" released 25 years ago and shot up the charts to become his first No. 1, the engine driving everything has been the music. He writes it. He arranges and produces it. And he releases it on his own record label, Show Dog Nashville. At the core is his songwriting, as recognized in his 2015 induction into the Songwriters Hall Of Fame in New York City. That year Robert Hunter and Jerry Garcia of the Grateful Dead, Willie Dixon, and other songwriters from all genres of music were also included in his induction class. The Nashville Songwriters Association International named him Songwriter/Artist of the Decade and he is a three-time BMI Country Songwriter/Artist of the Year. His songs have received more than 91 million BMI performances on commercial radio stations worldwide. Keith's albums have sold more than 40 million copies. His tours have drawn more than a million fans each year for more than a decade straight, with recent expansion into Europe and Australia. The awards are too numerous to count and include Artist of the Decade nods from Billboard and the American Country Awards, as well as the ACM's Career Achievement honor and twice their Entertainer of the Year award winner in back-to-back years. And there have been some unexpected highlights along the way as well, including country's most impactful viral event, "Red Solo Cup," the video for which has received more than 46 million views and was named ACM Video of the Year.